Pressure Treated Pine Privacy Fences
---
MCQ™ Pressure Treated Pine at a Glance: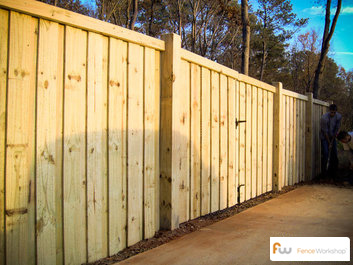 Our pine fences are pressure treated with the newer, safer, more natural looking MCQ (Micronized Copper Quaternary) treatment. Micro pressure-treated lumber is clean and safe for handling and for the environment, and has a fresher, more natural appearance than other treated wood. Along with being safer, longer lasting and more natural looking, MCQ lumber is easier to stain or seal. Our MCQ pine lumber uses a copper-based preservative with a co-biocide and is building code compliant ICC-ES Reports, ESR-1980, ESR-2240. At Fence Workshop™ pressure treated pine fences are our most cost commonly requested and installed fences. Over the years, we've installed thousands of pine privacy fences and are recognized as one of the most experienced pine privacy fence installers in the nation.
Our MCQ™ Pine is Safe for Humans, Pets and the Environment:
MCQ is also odorless, non-staining and non-irritating to humans, animals and plants and is ideal for a wide range of outdoor uses. Unlike the dark green pressure treated pine commonly seen here in the Southeast, the MCQ™ treatment has a much more natural look which initially weathers into a golden brown rather than gray.
Construction of Pine Fencing:
As with all Fence Workshop™ fences, our pine fences are fully constructed on site by Fence Workshop™ expert installers. We use hot-dipped galvanized ring-shank nails that will not rust, easily pull lose or stain fence pickets. All pressure treated posts are set in belled holes with premixed concrete and Quick-rok™ for extra stability and longevity. We provide a 5-Year Installation Warranty on all fences we install.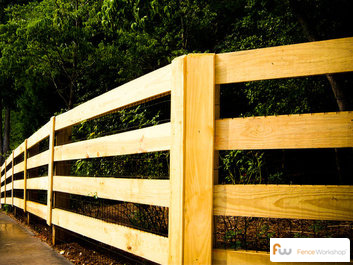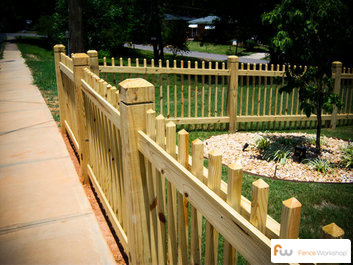 Pricing for Pine Fences:
Our pressure treated pine privacy fences most commonly cost between $13 and $25 per linear foot (installed). At Fence Workshop™ we provide up front pricing that is based upon the upgrades selected. Our price per foot does include installation and our 5-Year Installation Warranty.
Purchasing a Pine Fence:
When ready to purchase a pine fence from Fence Workshop™, just give use a call at 1(888)803-5252 or shoot us an email at info@fenceworkshop.com to get started. If you know the style of pine fence that you want, let us know along with the footage of the fence, an accurate description of the terrain, the amount and size of the gates that you will be needing and any other necessary specifications. Not sure what you want? Call today and schedule a no-obligation consultation with one of our highly trained and experienced project managers.
Sealing and Staining a Pressure Treated Pine Fence:
At Fence Workshop™ we offer sealing and staining as an additional service and suggest water sealing your pine fence around 3 months after installation. Water sealing your pine fence will keep your lumber from absorbing moisture and will help to prevent shrinking and warping. Stain (not to be confused with sealant) will protect your fence from both moisture damage and color-fading sun damage. The darker the tint, the better the protection will be. The best form of secondary protection for your pine fencing is a solid outdoor paint with a pre-coat of primer. Contact us for pricing.
Weathering Information:
Thanks to a unique treating process, consumers can enjoy wood the way Mother Nature intended; meaning, no more dark-green tint to wood. With pine privacy fences of the past and most competitor's current pine fences, the ACQ™ treatment process caused the lumber to have a strong dark green tint and the fence would weather to a gray color. Our newer and longer lasting MCQ™ pressure treated pine has a much more natural look without the dark green tint. When properly maintained, our MCQ™ pine lumber weathers to a golden brown color rather than a gray.
Lumber Warranty Information: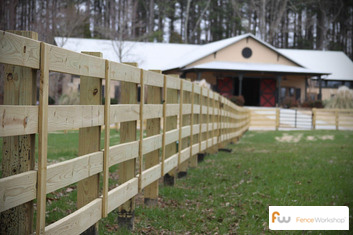 Our MCQ™ pressure treated pine lumber comes with a lifetime residential and agricultural limited warranty offered by YellaWood® brand products for above ground, ground contact and fresh water contact, used in residential and agricultural applications. The lumber comes with a lifetime residential and agricultural limited warranty against structural damage caused by termites and fungal decay. The pine fence pickets come with a limited 15 year warranty. See warranty for specific provisions
Environmentally Preferable Product:
Our pressure treated pine lumber is treated with the first wood preservative certified as an Environmentally Preferable Product by the Scientific Certification Systems. This means our lumber is safe for handling, children, pets and plants.
Where do we install our pressure treated pine fences?
At Fence Workshop™ we install pressure treated pine fences in Georgia, Florida and North Carolina areas like Atlanta GA, Athens GA, Augusta GA, Columbus GA, Macon GA, Savannah GA, Valdosta GA, Destin FL, Jacksonville FL, Orlando FL, Tallahassee FL, Tampa FL, Apex NC, Cary NC, Chapel Hill NC, Holly Springs NC, Raleigh NC, Wake Forest NC and many more. As always, we provide a 5-Year Installation Warranty with all fences we install.
---
Get Started – Schedule a Free On-Site Estimate Now!
We know you're getting excited about your new fencing project, and we would love to help. You're just a call or click away from getting started! Schedule your free consultation today. Our passion is the art of beautiful fences, and we can't wait to share that passion with you to create the dazzling fencing you've been dreaming of. Contact us today!
Phone: 1-888-802-5252  Email: info@fenceworkshop.com  Schedule a quote: Online Quick Quote Form