Athletic Chain Link Fencing
---

Athletic Chain Link Installation Professionals:
Fence Workshop™ tennis court fences are built to the highest standards and can be constructed to meet any specifications.
We are Bondable:
At Fence Workshop™ we are bondable and fully insured. We send certified installers to all job sites and projects. 
About our Athletic Chain Link Fencing: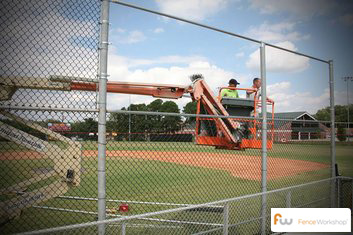 Fence Workshop™ installs athletic chain link fences in Georgia, Florida and North Carolina. Construction of your new athletic chain link enclosure has never been easier. We build chain link tennis court fences for contractors, apartment owners, neighborhoods (HOA's) and residential customers alike. We can provide in-house plans for various sizes and styles of tennis court fences, or can built them to meet specific specifications. For free on-site estimates or general inquires about our tennis court fences, call 1(888) 802-5252. 
The Fence Workshop™ installation crew installing a new chain link baseball field.
Tennis Court Fence Pricing:
Current Average Per Foot Fence Cost:
The pricing below includes the average cost for supplies and professional installation of our tennis court fencing. We also supply and install athletic chain link fencing for baseball fields, basketball courts and all other play areas. For pricing of heights and styles/colors of tennis court fencing not mentioned below, please send us an e-mail at info@fenceworkshop.com.
Pricing For 8 Ft Tall Tennis Court Fencing
Black Vinyl Coated Chain Link Tennis Court Fencing                                                               $24.36 Per Ft
Tennis Court Walk Gate                                                                                                            $510.00 Each
Current Average Cost For Supply & Professional Installation of a
Single Court 60′ x 120′ Tennis Court Fence w/ One Walk Gate                                                 $9,182.16
Double Court 120′ x 120′ Tennis Court Fence w/ One Walk Gate                                             $12,105.36
Triple Court 120′ x 180′ Tennis Court Fence w/ One Walk Gate                                               $15,028.56

---
Get Started – Schedule a Free On-Site Estimate Now!
We know you're getting excited about your new fencing project, and we would love to help. You're just a call or click away from getting started! Schedule your free consultation today. Our passion is the art of beautiful fences, and we can't wait to share that passion with you to create the dazzling fencing you've been dreaming of. Contact us today!
Phone: 1-888-802-5252  Email: info@fenceworkshop.com  Schedule a quote: Online Quick Quote Form